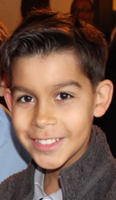 Maxwell Parker Matos
Matos, Maxwell Parker, suddenly on March 7th, 2019, of Merrick NY.
Beloved son of Luanne and John.
Cherished brother of Quinn, Oscar, and Charlie.
Loving grandson of Miriam Matos. Adored nephew of Ray and Glenda Lacen, Robin Lateer, Maria and Del Randolph, and Eric and Frances Matos.
Maxwell enjoyed playing the piano and violin, performing with the Drama Club at Kellenberg Memorial High School, spending his summers with the Newbridge Road Pool diving team, and--above all--PLAYING VIDEO GAMES.
Visitation will be held at Cure of Ars R.C. Church, 2323 Merrick Avenue, Merrick, on Friday, March 15th from 4 to 9PM.
The Funeral Mass will be Saturday the 16th at 11:30AM.
In lieu of flowers, donations in his name will be appreciated and may be made to the Make-A-Wish Foundstion via
www.wish.org
or to the Humane Society via
www.humanesociety.org
www.nfwalkerfh.com