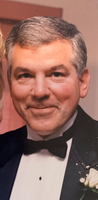 Ronald G. Clarendon
Ronald G. Clarendon passed away on January 7th, 2019 surrounded by his devoted family, after a long struggle with Parkinson's Disease and Dementia.
Ronald is survived by his dear wife, Anne, and their children Ronald G. Jr.; and Robin Speciale and her husband John.
Mr. Clarendon will be deeply missed by his loving grandchildren, Christina and John Anthony.
Ronald truly enjoyed attending the horse races at many different tracks and he enjoyed his consulting work in the healthcare industry having worked with so many nursing homes and facilities throughout the NY, NJ, PA and CT area.
It is requested, and will be greatly appreciated, that in lieu of flowers donations in his name be made to
The Parkinson's Foundation at www.parkinson.org or to the Dementia Society of America at www.dementiasociety.org