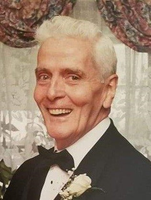 Ronald V. O'Grady
O'Grady, Ronald V., age 85, passed away on December 29, 2018.
Born December 14, 1933 in the Bronx, NY.
On May 28th, 1960, he married his loving wife Geraldine Whelan.
He was predeceased by his mother and father and his eight siblings.
He worked as Assistant Comptroller at the New York Athletic Club for 25 years.
Ronald is survived by his wife, Geraldine, their son, Ronald and his loving wife, Katie as well as his four daughters and their husbands: Patricia and John King, Catherine and David Gordon, Geraldine and Robert Strebel and Ellen and James Robertson.
He is also survived by his 14 loving and devoted grandchildren and his many nieces and nephews.
Visiting today, December 30 at N.F. Walker, Inc. Funeral Home 2039 Merrick Ave. Merrick from 2-4 and 7-9PM. Funeral Mass at Cure of Ars R.C. Church 2323 Merrick Ave. Merrick Monday the 31st at 10:30 AM.
Burial at The Cemetery of the Holy Rood, Westbury NY.
Donations in his name to St. Jude Children's Research Hospital PO Box 1893 Memphis, TN 38101-9950 will be appreciated.