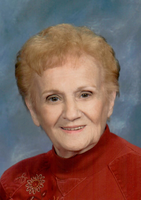 Mary M. Simonetti
Mary Simonetti (née Pia Maria Marrocco), 99, of Merrick, NY, passed away in her home on November, 4 2019.
Funeral service will be held at Merrick United Methodist Church (1425 Merrick Ave, Merrick, NY 11566) on Friday, November 8, at 10 a.m. with Pastor Iyoda officiating. Burial will follow at St. Charles Cemetery (015 Wellwood Ave, Farmingdale, NY 11735). Visitation hours at N. F. Walker Funeral Home (2039 Merrick Ave, Merrick, NY 11566) will be held on Thursday, November 7 from 2-4 p.m. and 7-9 p.m.
Mary Simonetti was born to Elena and Gaetano Marrocco on April 9, 1920 in Brooklyn, NY and raised in a community of Italian immigrants. She married Anthony Joseph Simonetti on May 1, 1948 at St. Joseph's Church in Bushwick. Over 11 years, she gave birth to five daughters. When Anthony suffered a stroke in 1982, Mary became his primary caretaker, attending to him until the moment of his untimely death in 1991. She remained a proud widow for 28 more years, supported by her faith community at Merrick United Methodist Church, friends, and generations of family.
Born the year women achieved the right to vote in the United States, Mary spent her life building a home for her five girls to weather waves of turbulent social change. She remained a centering force for her family as it grew to accommodate new generations, offering large meals, colorful holiday celebrations, and other lasting memories every season of the year. Her closest friends were equally sociable aging spirits with a shared love of conversation and cake. Mary kept people on her mind, both specific people in her life and communities she felt deserved more support. She donated often to veterans' charities and Big Brothers, Big Sisters. Her interests and passions included chocolate-covered cherries, figurines of angels, good stories (a love she said she got from her mother), Christmas, textiles, crooners, angel hair pasta, and the words of the Bible. Mary's was an angelic love that will be remembered by all who knew her.
Mary is survived by her five daughters and their spouses: Donna Simonetti of Portland, ME, Elaine Brown and husband Clifford of Merrick, NY, Maryann Currier and husband Gerry of Clifton Park, NY, Lee Curt and husband Don of Alpharetta, GA, and Julie Robinson of Merrick, NY; nine grandchildren: Clifford Brown III, Paige Kuhn, Paul Curt, Jena Currier, Melanie Sugar, Bennett Kuhn, John Robinson II, Jeremy Robinson, and Jesse Robinson; and five great-grandchildren: Michaela Brown, Brooke Brown, Autumn Sugar, Clifford Brown IV, and Corbin Sugar. Mary is preceded in death by her husband Anthony Simonetti, parents Elena and Gaetano Marrocco, siblings Julia, Josephine, Tony, Eddie, and Gene, and sons-in-law Mark Kuhn and John Robinson.
In lieu of flowers, memorial donations may be made to Merrick United Methodist Church (1425 Merrick Ave, Merrick, NY 11566). The family extends its profound gratitude to Good Shepard Hospice, the women's circle of Merrick UMC, and Mary's neighbors for tenderly caring for her throughout her long life.