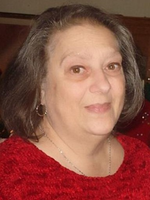 Joanne Budetti
Ms. Joanne Budetti of Lawrence, NY passed on November 29th, 2017.
She is survived by her loving children Melissa Lilli (Anthony) and Jessica Lopez (Dioni); grandchildren Michael Thomas Holland, Sarah Holland, Mark Lopez, Courtney Lopez, Nicholas Lilli and Erika Lilli; sister Arlene Sessa (James); nephews David Sessa (Danielle) and Michael Sessa (Charis); grand niece and nephews Alexander, Franklin and Fiona Sessa.
She will also be missed by her many loving cousins.
Joanne was an active member of Cure of Ars R.C. Church and was particularly fond of her activities with youth ministries.
She was devoted to her loving family, she was so enamored with her grandchildren.
Donations in lieu of flowers will be appreciated and may be made to God's Love We Deliver.
www.glwd.org/give/donate